NGDRS or National Generic Document Registration System is a citizen centric software designed for online property registration, uploading of relevant documents, and booking online appointments with the SRO for documents registration.
A project administered by the Department of Land Resources, Ministry of Rural Development, Government of India, the NGDRS or National Generic Document Registration System is a common, generic, and configurable application developed for registration departments of states across India.




What is NGDRS?

NGDRS or National Generic Document Registration System is an inhouse and state specific software to assist states in property registrations. NGDRS is customizable as per the specific needs and property registration rules of the States. NGDRS offers services such as online document entry by the citizens, online property valuation and stamp duty calculation among others.


Developed under the supervision of the Department of Land Resources, Government of India, NGDRS is a revolutionary step in the direction of digitization of property registration mechanism and e-governance.

NGDRS is developed in a way that it caters to the specific needs of every state of India. Many states across India have adopted the NGDRS such as NGDRS Jharkhand, NGDRS Punjab and NGDRS Goa among others.

Key objectives of NGDRS
One Nation One Software

A generic platform for registration of properties and document across the nation

Citizen empowerment by facilitating property valuation and online document submission

A dedicated and single platform of all the stakeholders in the registration process
Importance of NGDRS

NGDRS or National Generic Document Registration System has heralded a new era in the process of registration of documents. NGDRS application is specially designed and developed for the use of Government sub registrars, citizens, and highly placed users from the registration departments of the states.

NGDRS allows the states to customize a state-specific instance and alter/configure the NGDRS software as per requirements. NGDRS Offers a complete and easy to access user interface for property and document registration. NGDRS application enables the citizens to proceed with land buying and registration online. They can find out the Ready reckoner rate or circle rate for land, estimate property valuation as per prevailing rates in the area and comprehend the type of land.

NGDRS allows citizens to decide about the type of land purchase. As transactions related to prohibited properties are not allowed for sale, such as tribal land, mortgaged land, and government land etc. This information is also available to the citizens, which helps them decide where and what type of land they must consider.

In addition to this, citizens can apply online for property document submission, make an instant online payment, and take online appointments for physical verification. With the help of NGDRS, property buyers are required to visit the sub-registrar's office (SRO) only once and that too at the scheduled time of final signing and registration. This entire workflow of NGDRS has not only proved beneficial for citizens but has also enhanced the productivity of the government department staff.

NGDRS - Key Features



The key features of the NGDRS are-
The NGDRS software is configurable as per State specific Property Registration Acts

NGDRS provides a facility for online document entry by citizens.

NGDRS facilitates an online valuation module with stamp duty calculation.

The NGDRS provides role-based access to citizens and Department users.

An SMS facility is activated to send alerts to citizens & departmental users.

It has assimilated a hierarchy-based maker/checker facility.

NGDRS has an eKYC – UID based authentication using biometric or iris at the time of Admission.

NGDRS facilitates linkage with the Land records system.

It provides an interface for an online payment facility.

NGDRS enables linkage with stamp inventory software to prevent duplicate usage of used stamp paper.

NGDRS provides storage of a copy of registered documents using scanning technology.

A user can view, download scanned documents to generate certified copies for an authorized user.

NGDRS has Unicode based Local Language support.

NGDRS facilitates registration anywhere within concurrent jurisdiction.

NGDRS enables single seamless login credentials for all modules.

A user can see daily, monthly, and yearly MIS reports with cash books and other reports.
Property Registration through NGDRS

For property registration through the NGDRS portal, there exists a simple method. To register a property on the NGDRS, a citizen must register himself by filling the following form.

Citizen registration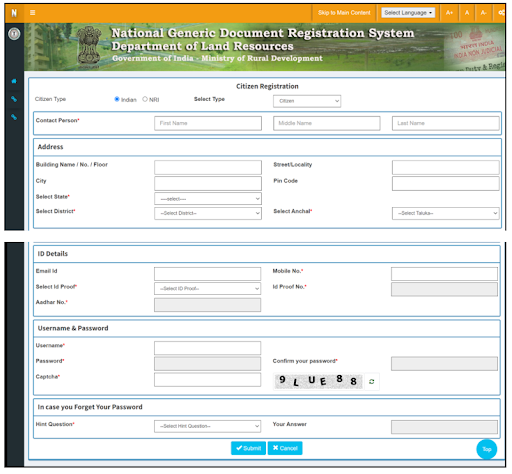 Fill the following details in the citizen registration form of NGDRS:
Once you fill in the aforementioned details and click on the 'Submit' button, you will be registered on the NGDRS website.

Property valuation on NGDRS website (step-by-step)

NGDRS allows the citizens to perform the current valuation of the desired property. Here is the step-by-step process to perform property valuation on NGDRS.

Step 1: Go for NGDRS login on the concerned state where the property to be evaluated is located.

Step 2: proceed for registration as a citizen for NGDRS login. Enter the registered citizen credentials for NGDRS login.

Step 3: Choose the financial year (FY). NGDRS Registered citizens can select the last financial year. It enables the valuation of a particular year.

Step 4: Enter details such as district, taluka and concerned municipal council.

Step 5: Enter the survey number of the concerned location.

Step 6: Select the correct property usage viz residential/commercial etc.

Step 7: Choose the specific construction type.

Step 8: Select the age of the property and road vicinity.

Step 9: Click on the 'Calculate & Save' and proceed.

Step 10: The property valuation report will be visible online.

How to submit an online application on NGDRS?

As the NGDRS is customised for the specific needs of every state, the online Grievance Redressal Mechanism can be slightly different from each other. However, it remains mostly identical. If we take the example of NGDRS Jharkhand, a citizen can submit the online application in the following steps.

Step 1: Click on the official portal of NGDRS Jharkhand website https://jharnibandhan.gov.in/ and click on 'Submit Grievance'.




Step 2: Once you click on 'Submit Grievance', the following window will be opened.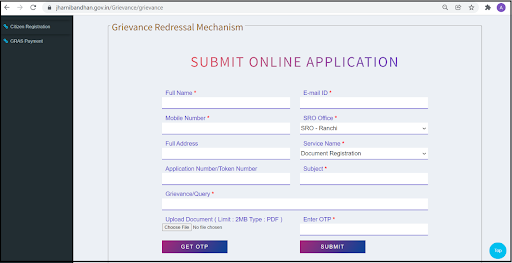 Fill in the details such as
Name

Email Id

Mobile Number

SRO Office

Address

Service Name

Application Number

Subject

Grievance Query
Step 3: Click on Get OTP, enter OTP and click Submit. Your grievance will be submitted online. You can also track the status of the submitted grievance on the same portal by clicking on the 'Track Grievance' tab.

How to submit a deed for registration on NGDRS?

To submit deeds/documents for registration on NGDRS. Carefully read the guidelines before filling property registration details at the state NGDRS website.

Step 1: Complete the New user registration

Step 2: Proceed for NGDRS Login

Step 3: Fill in all details of general Info tab

Step 4: Complete details in property details and valuation tab

Step 5: Fill in the party details and select one party as a presenter.

Step 6: Fill in witness details

Step 7: Make the online payment

Step 8: Do stamp duty calculation

Step 9: Read the pre-registration summary carefully

Step 10: Upload file

Step 11: Proceed for data submission

Step 12: Fix an appointment with SRO office

Step 13: Visit the SRO office on the scheduled date for further application processing

Which states have implemented NGDRS?

Till 31st December 2019, NGDRS was being used in seven States of India, now the number has reached eleven. The key states which have implemented NGDRS are Punjab, Andaman & Nicobar Islands, Manipur, Jharkhand, Goa, Mizoram, and Himachal Pradesh.

At present, the following states have adopted NGDRS-

States Using NGDRS

NGDRS Punjab

NGDRS Rajasthan

NGDRS Maharashtra

NGDRS Goa

NGDRS Andaman & Nicobar

NGDRS Bihar

NGDRS Jharkhand

NGDRS Manipur

NGDRS Mizoram

NGDRS Himachal Pradesh

NGDRS Andhra Pradesh

NGDRS Madhya Pradesh

NGDRS Kerala

NGDRS Uttarakhand

Conclusively, NGDRS has provided a single and seamless online tool for property registration, property valuation and stamp duty calculation etc. NGDRS has helped in saving a lot of time and energy of both citizens and the government departments.